Deltatheridium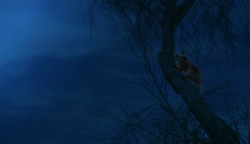 Family
Deltatheridiidae
Species
D. pretrituberculare
D. nessovi
Time period
80 million years ago
Located in
Gobi Desert
Diet
Meat
Deltatheridium is a genus of Deltatheridiidae that lived in the Gobi Desert during the Campanian around 80 million years ago. It makes a brief appearance in the documentary Dinosaur Planet.
A Deltatheridium is seen climbing a tree near the nesting Velociraptor, White Tip. Caught off guard, White Tip moved in to kill it, before hearing another Veloricraptor, Broken Hand, raiding her nest.
Deltatheridium is the only mammal to appear in the show.
Community content is available under
CC-BY-SA
unless otherwise noted.